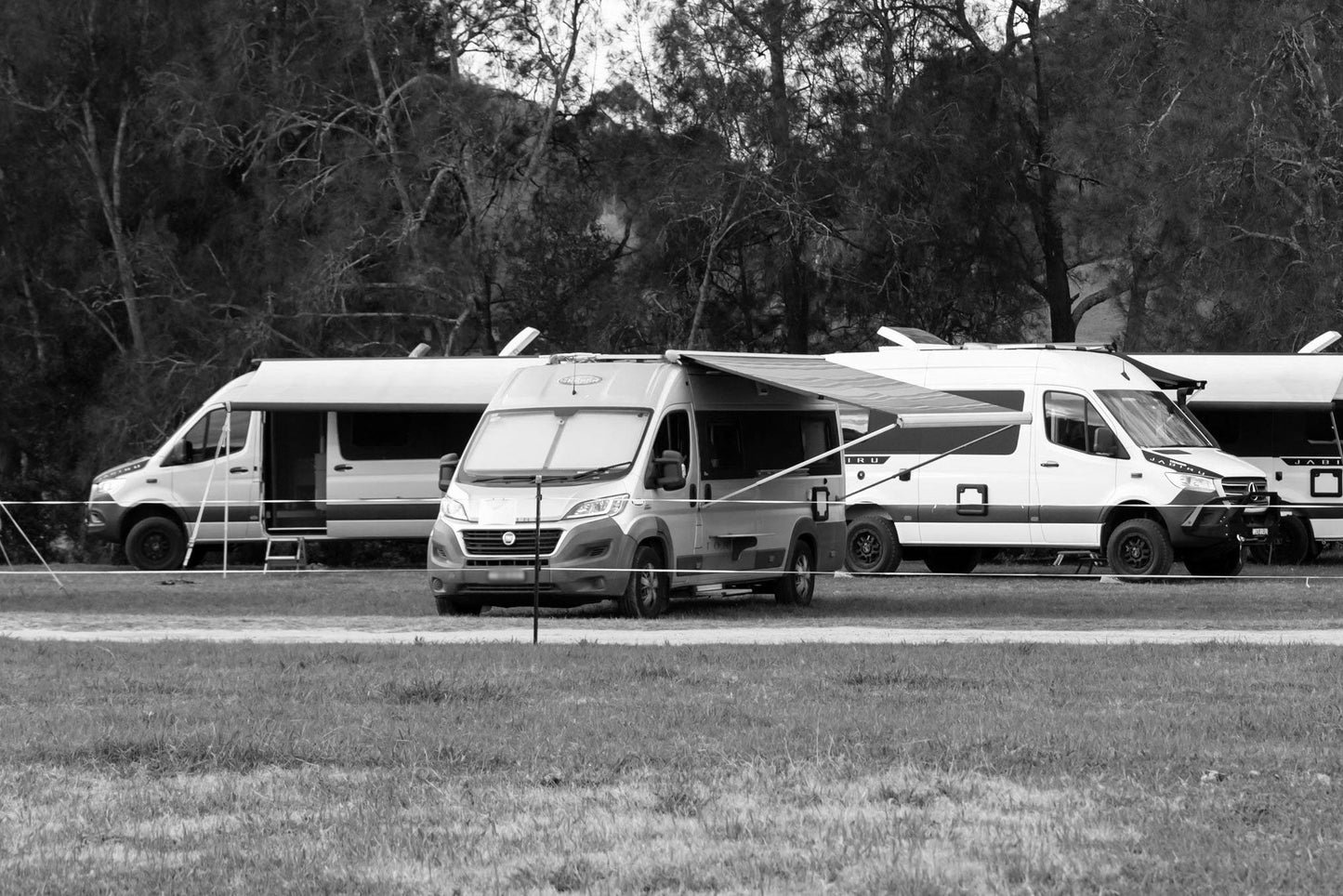 Image: Nilmini De Silva
It's widely perceived that in the Australian travel market, you need the largest and most highly capable off-road vehicles. However, how much of it is truly necessary? Can we explore Australia more than comfortably using two-wheel drive and still cover a significant portion of it? The answer is a definite yes. TRAKKA's collection of 2WD campervans and motorhomes excels in tackling diverse road conditions, delivering a serene driving experience while maintaining excellent fuel efficiency.
We recently caught up with well-travelled TRAKKA Family, Nilmini and Steven to hear about their experience both living in and working from their home on wheels.
TRAKKA Model: 2015 Fiat Ducato Torino
Favourite Places
We have travelled to every state and territory so this is hard as we have favourites in every state. 
Tasmania – we spent a total of 6-months here based for some of that time at a local eco-village. We guest lectured at a UTAS, supervised students doing their thesis and did some work with a local community at Cygnet. We loved Tassie because it was both compact and stunningly beautiful from the Bay of Fires, Wineglass Bay to Bruny Island from which we took a cruise into the Southern Ocean. The centre of  the island, Cradle Mountain and the wild west coast are also stunning and mostly accessible by 2WD.
NT – We loved the Merinee Loop, Uluru, Kata Tjuta and Kings Canyon (Watarrka National Park). Some of the national parks around Darwin especially Kakadu and Litchfield should be on everyone's bucket lists. 
In Queensland, we loved spending time on the islands like Stradbroke Island and Magnetic Island. You can take your Trakka to both of these by ferry. We also loved the more remote parts of Northern Queensland. On our wish list is still to get up to the Gulf.
WA – Hard to beat the Kimberleys, but the entire WA coast is stunning, from Broome to Albany. Esperance. Karajini and Cape Leveque are faves. We also crossed the Nullarbor which is another amazing experience. 
SA – We feel that SA is quite an underrated state and has many beautiful spots to discover from the Flinders, Coober Pedy, Murray River and lakeside camping in the Coorong.
VIC – As an aerial photographer one of my favourite spots is Lake Tyrell in the mallee country. But of course there are the staples like the Great Ocean Road. 
NSW – Our home state. You can't beat the coast drives to places like Narooma and Bermagui in the south and places like Byron in the north. But I love getting away from the coast to the Outback, and places like Broken Hill have so much to keep you occupied. The area around the Snowies is also amazing. 
Canberra – don't lets forget Canberra. A great place to get away for festivals like the Balloon Festival. 
Image: Nilmini De Silva
Style of camping
We mostly enjoy spontaneous free camping in natural environments, camping in national parks but will occasionally check in to a caravan park because we need to get charged up and do laundry. Sometimes, when we were working with a local council, we would stay in town for weeks at a paid site. We are also fond of showground camping, which though basic, often has exactly what we need for those longer stints in towns. 
Image: Juris Puisens - Nilmini & Steven at the TRAKKA 50th Celebrations
Terrain travelled 
We lived in our van while working remotely as Town Planning and Engineering consultants at PolisPlan, our town planning consultancy. While we mostly kept to paved roads, there were many times we took dirt roads to remote campsites or side trips to places like the Breakaways while in Coober Pedy. 
We often like to follow the Murray River from the Snowies right down to the Coorong. We were fortunate to camp on Country during the Dupang Festival. 
Weather & Road Conditions
We've travelled during all four seasons and found summer to be the hardest time of year especially when the temperatures reached 40 degrees or we got bitten by sand flies because we had left the windows open! But these were just a few instances of discomfort for adventures of a lifetime. Road conditions were fine. There were just two instances when we got bogged in campsites. First because the ground got really soggy due to overnight rain and secondly because we drove on loose sand. 
Tips
Most Australians live on the coast, so if you have hugged the East Coast for most of your life consider crossing the mountains and heading west. It's a wonderful way to see the interior of this country and its much easier to find free camp spots, while learning a lot about the history and geography of this land. 
APPS: There are many apps, but we find WikiCamps to be ideal. In addition, the BOM app is great for weather, and the Fuel Map for checking prices and locations of fuel stations. The Clear Outside App and PhotoPills are great for photographers.
The Cloud: When we decided we would live and work as digital nomads, we got a dropbox subscription and scanned every bit of info we had and put it all on the cloud. That was one of the best things we did. 
Planned or Spontaneous: You can setup a trip plan in WikiCamps before you leave, researching and saving your favourite campsites and places to see. There are some great trips like the Darling River Run, or following the Murray where you can learns lots about both or indigenous and non-indigenous history. We recommend keeping plenty of flexibility in your trip so you can change your plans and explore a place deeper, or camp spontaneously in places you find along the way. 
Information Centres and Tours: Always visit information centres along your travels. We found some gems like the Postman's Tour in Coober Pedy that took us to remote stations and on 4WD trails that we could not have accessed. Tours led by Aboriginal people are also outstanding to get a different perspective. 
Festivals and local events – Wonderful ways to get a better insight into the local areas.
Working and Studying on the Road – Cafes, libraries, community centres etc are wonderful places to stop and work from, accessing free wifi. We also used Telstra Wifi when travelling because during those early years our plans were limited. We find that the plans now have plenty of data. 
Packing – The less you pack (except for camera gear, lol), the more free you will feel. You will need far less of everything when you are on the road. Because we lived on the road full time, we had a backpack of winter clothes (and vice versa) that we packed away in the summer. 
Access to Internet Connection – We have found this to be easily the biggest hurdle we faced while working on the road. Even in some of the bigger towns, it was hard to find more than 2 or 3 bars on or phones. We are now looking at the Starlink satellite and other systems like zetify for better access while mobile. While we traveled without a satellite phone or walkie talkie system, I would recommend something like this if you are travelling remotely. 
First Aid – a Remote First Aid course would give you some great tips in the event of a medical emergency. Also make sure you have a good first aid kit and a snake bite kit. Access to medical centres and hospitals will also be sparse in remote areas.
Be sure to take a look at Nilmini's incredible archive of working and living on the road: photography page.